MC, Rapper, Multi-instrumentalist and Cork's official 'King of the Bling', Harry J, has worked with many famous DJ's & Sound Systems in the UK & Ireland over the last 30 years and fronted a variety of bands playing Reggae/Jazz/Ska & Lover's Rock. Close your eyes and you'd swear it was Gregory Isaacs...or is it Gil Scott Heron?
Partly Carib-Indian, Portuguese & Irish, Harry J arrived in Cork in 1996 and was the pioneer of the early Cork Reggae movement with his first band Nuca, then Downtown Crossing and latterly The Conspiracy. A multi-instrumentalist playing a mixture of Reggae, Lover's Rock and dubbed-up jazz, mostly written by Harry himself, Harry J's bands, have always been popular late night entertainment across the bars, venues and festival stages of Cork, Limerick, Galway and Dublin
The Conspiracy is a project that can be as small as a tight 5 piece band or with the inclusion of brass and percussion section up to 12 people on stage. Many of the musicians that make the line-up of The Conspiracy are drawn from Cork City's diverse musical 'underground' and include session musicians, music teachers and even members of the Army band from Collin's Barracks, all playing for the shear love of playing Reggae Music. With 'The Irish Conspiracy' Harry J and his band conspire to perform Jazz and Lovers Rock with an Irish twist, adding reels with the Irish flute and whistles around the brass arrangements.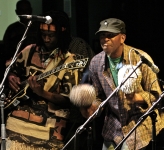 More recently his voice and his own brand of 'Lover's Rock' has proved popular at Wedding receptions around Ireland where, teamed-up with Hungarian DJ 'Flipside Selekta', they will take-over a room at an exclusive Hotel, set up a 'Sound System and transform the venue into a small part of Jamaica giving wedding guests something completely different, a funky alternative to the usual run-of-the-mill wedding band repertoire. This 'Reggae Room' often proves to be the musical highlight of the occasion and frequently it's standing (or skanking) room only.
Harry J can be booked with his band and/or with a DJ or 'Reggae Sound System'