Lazik is a quintet specializing in the fusion of east European music: Bulgarian music, Serbian, Gypsy and Klezmer music... with the melodies of the west: Irish music, Breton and Scottish music. An ingredient of Scandinavian power and a few Turkish spices are added to the mix. The result, high in colour is seasoned with the band's arrangements mixing styles and tastes from all over Europe.
Lazik is made up of five musicians of various countries, Stella Rodrigues (Netherlands) on the fiddle/ vocals, Barry O'Donovan (Ireland) on guitar, Christelle Moisan (Brittany) on flute and vocals, Dylan Gully (Brittany) on clarinet and kaval, Mark Wilkins (Ireland) on bass guitar and percussion.
The combination of musical influences and the virtuosity of the five members deliver a repertoire where varied musical styles are mixed together to produce a seamless whole.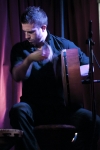 With the quintet occasionally enjoying the collaboration of two extra members, George Norman (U.S) on mandolin and Yvonne Leahy (Ireland) on fiddle, it is capable of hypnotizing audiences of any ambit, from the hushed reverence of a small auditorium to the bump and grind of the town square on a Saturday night as the group has proved again and again over the past five years.
Lazik are a reflection of the cultural melting pot that Cork City has become in recent years. Starting out as a group of session musicians, they discovered that they couldn't resist wandering off the traditional path of the standard Cork session repertoire. To their delight they discovered that other great and well-travelled musicians had a similar appetite for different signature world music.
A small group of musicians started meeting to share the varied and rich repertoires reflecting their various musical and cultural backgrounds. Lazik was then formed. The musical curiosity, the interest for the cultures behind the sounds, the love of melodies and varied rhythms constitute the backbone of the group. Lazik's journeys around the world collecting tunes and songs have provided them with an extended repertoire and a bottomless well of inspiration, which they are eager to share with their audience!